Mijn favoriet: Whirlwind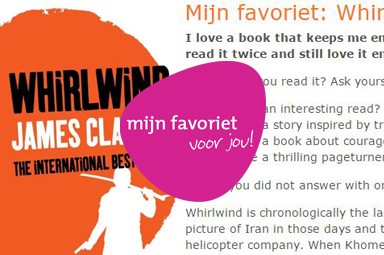 I love a book that keeps me enthralled until the last page. That is why I have chosen Whirlwind. I have read it twice and still love it enough to read it a third time.
Why should you read it? Ask yourself the following questions:
You like an interesting read? ...YES? Read Whirlwind!
You like a story inspired by true events? ...YES? Read Whirlwind!
You like a book about courage, love, loyalty?...YES? Read Whirlwind!
You like a thrilling pageturner?...YES? Read Whirlwind!
Even if you did not answer with one yes, you should try it because this book is much more than just a thrilling read.
Whirlwind is chronologically the last book in The Asian Saga. It takes you back to 1979 in Iran. Clavell creates a vivid, complex picture of Iran in those days and the dangers for foreigners to live and work there. Mainly it is about a group of people running a helicopter company. When Khomeini takes over, Gavallan, the owner of S-G Helicopters, has to get his people and helicopters out of Iran under extreme dangerous conditions in a very short time. The story is inspired by true events such as the struggle of Bristow Helicopters to escape Iran.
If you like to find out more about Whirlwind, attached please find a link, https://en.wikipedia.org/wiki/Whirlwind_(novel)
I hope you enjoy reading it as much as I did.
Christa